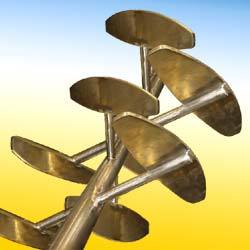 Mass Mixer
Product Description
Mass Mixer
S.S.Engineering manufacture Mass Mixers that are suitable for homogeneous mixing of wet and dry particles in pharmaceuticals, chemical dyestuff and other industries. The unit has a paddle type blade so arranged to give a medium kneading and heavy mixing action for thicker material.
It contains an equal number of forward and reversing paddles which constantly move the ingredients from one end of the mixer's tank to the other. Paddles, which move material toward the outlet.
The agitator's reversing paddles are located several inches from the bottom of the tank. This provides 3 type of advantages. Because forward and reversing action occurs on different planes the ingredients are able to flow easier and faster from end to end. The result is better circulation and faster mixing with less power required for operation.
Unloading is also faster and clean out more thorough due to the fact only the forward paddles come in contact with the material in the tank when the last part of the load is being discharged.
Furthermore there's no interference caused by the reversing paddles attempting to move the material away from the outlet. The result is reduced unloading time and more thorough clean out than was previously possible.
Another distinct advantage of this agitator is its ability to precision mix small batches.
This agitator is excellent for mixing both wet and dry ingredients. It's recommended for mixing heavy, resistant items such as fertilizers, plaster, chemicals, vitamins and minerals, detergents, sweeping compounds, drywall products and caulking, as well as coffee, teas, and soil mixes.
Our paddle agitator is also extensively employed in the feed manufacturing industry mixing feed rations for; pork, poultry, cattle, dairy, horses and sheep with and without liquid molasses and fat.
Mass Mixer are fabricated in capacities ranging from 50 liters to 5000 liters in MOC Mild Steel and Stainless Steel.
Contact Us
C-1-B, Hatkesh Udyog Nagar, Kashimira - Bhayandar Road, Mira Bhayandar, Maharashtra, 401104, India
Phone :+918068090148